Hotel Introduction
Jinshan Youth Activity Center, a vast place, is located in Henggang Village, Jinshan Township, in which there are VIP Suites with ocean view, Holiday Cottages, Group Suites, Art Center, Lounge, and the Campsite which is equipped with hot water shower, and therefore it's no worry to go to bed with sweat after a whole day play. There are also Campfire Field, Outdoor BBQ, Adventure Education Field, and Jinshan beach inside the center. Lying on the clean white beach is like surrounding comfortable with the talcum powder. Jinshan Youth Activity Center is the best choice for corporations, family, and classmates gatherings where provides a variety of accommodation and services.
Tel:(02)2498-1190
Hotel Address: No.1, Cingnian Rd., Jinshan Township, Taipei County 208, Taiwan(R.O.C.)
Room Introduction
Jinshan Youth Activity Center has 6 villas, 6 hot spring rooms, 8 Tang-dynasty suites, and 48 family/group suites, 48 suites groups, accommodating up to 700 people. You will feel like staying on the mountain top or on the seashore when you stay here, and the nature surroundings make you not want to leave at all.
Leisure Facilities
CampingOur 1,000 people capacity camp site is the largest one on the north shore of Taiwan. With fully equipped facilities, including hot water shower, it becomes the best choice of RV campsite for family and friends gatherings.Hot Spring GymLocated in the Dutunshan area rich of hot spring resource, our Hot Spring Gym is the biggest in South East Asia. It occupies more than 140,000 square feet and allows more than 500 people to use at the same time.BeachesThere are many fun activities available at Jinshan beach, including surfing, beach volleyball, beach motors, banana boat, concert, etc.Meeting FacilitiesIncluding auditorium and conference rooms, are equipped with tables, chairs, projectors, microphones, stereo system, white board, platform and podium. In addition, lounges are available for speakers and staff members.Paint Ball FieldTo achieve both educational training and entertaining purposes, learning elements are designed through paint ball shooting activity to strengthen the abilities of execution, self-discipline, and strategic and goal setting.Adventure EducationAdventure Education originates from England, developed in the United States, and it is an innovative educational training.Campfire FieldThere are some campfire fields. The Center caters campfire set-up as well as program planning and design for campfire parties.
Restaurants
RestaurantChinese style 10 people round-table is offered and it accommodates a maximum of 500 people, besides, it is also equipped with a platform for weddings and banquet parties.Youth CaféYouth Café is a best place for social gathering and free chatting where wireless internet is available.
Peripheral Scenes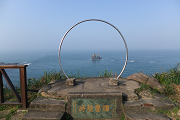 Jinshan Hot Spring GymLocated in the Dutunshan area rich of hot spring resource, our Hot Spring Gym is the biggest in South East Asia. It occupies more than 140,000 square feet and allows more than 500 people to use at the same time.Yangmingshan National ParkYangmingshan National Park is located at the northern edge of the Taipei basin with rich natural resources and beautiful season scenery. Juming MuseumLocated in Jinshan, Taipei County, in harmony with nature, is like a green park. The most famous works are Living World Series and Taichi Series which performed in woodcarving, copper carving, and steel carving. In addition to indoor woodcarving display, there are 13 areas, such as Science Area, Arts Corridor, Interchange Area, Performance Area, Living World Square, and Ju Jun Area etc. Shitoushan ParkThere are two upstanding giant rocks with more than 100 meters height, about 300 meters far in the sea, opposite to Shitoushan, look like a pair of candles, that's why they are called Twin Candlesticks Islet. It was listed as one of eight famous sceneries in Ching Dynasty. Jinshan Old StreetOne of few old streets in Taiwan, Jinshan Old Street had experienced earthquake and had been destroyed by Japanese troops as Sanxia Old Street, however, it is the place for farmers to sell agricultural products, such as taros, bamboo sprouts, sweet potatos, and Chinese yam. It has reputation for ancient structures and Jinshan duck and always crowded on holidays.
Directions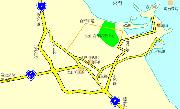 Public TransportationTake Guoguang Bus Line at the main station and route through Zhongxiao E. Road to get to Jinshan Youth Activity Center.Keelung Bus Line runs to Jinshan downtown regularly from Keelung and Danshui.Take Imperial Bus Line at Taipei Train Station and route through Zhongxiao E. road to get to Jinshan downtown. By Car,Take Chung-Shan Freeway or Formosa Freeway through Keejin Highway to get Jinshan Youth Activity Center.